Let us help you update your kitchen.
Do you see beautiful pictures of kitchens in magazines or online and wish that you could decorate your kitchen to look like the pictures? Maybe you have tried to put some things together in the kitchen, but it just looks like clutter. You might have a design in mind, but you are not sure how to go about executing the design. Finally, you might dislike the look of your kitchen, but you don't have any ideas how you can make changes to turn it into a room you love. This is where we come in. We have been in the interior design industry for over 30 years, and we can help you with kitchen interior design. Whether or not you have your own ideas for your Holden Beach, North Carolina kitchen, we can help come up with a design for your kitchen that you will absolutely love.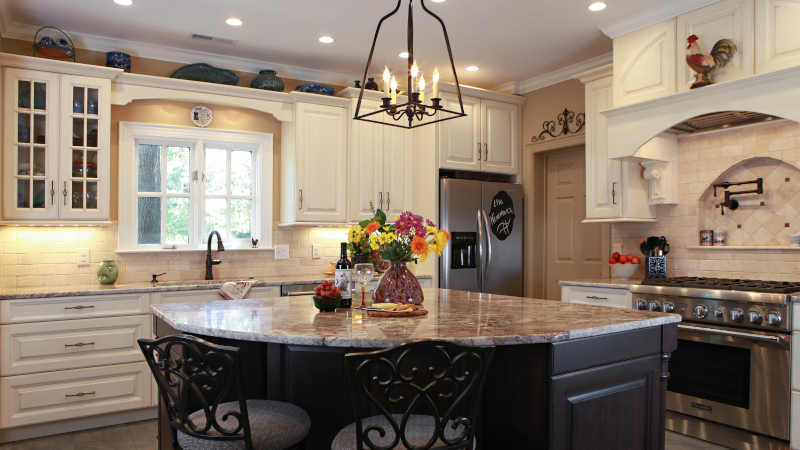 Kitchen interior design is so much fun, and there are so many different possibilities. Gone are the days when your only choices were to display your salt and pepper shaker collection and hang big wooden utensils on the wall. You can choose what style you love, and we can help you design a kitchen to fit that style. If you like a modern and sleek look, we can make that happen. If you like something that has a farmhouse or a rustic feel, we can incorporate that into the design for you. If you are looking for something unique and bold, we can also do that. We will help you pick and choose things you love so the design feels well-thought-out and cohesive.
Contact us today at Dynamic Kitchens and Interiors if you are interested in learning more about kitchen interior design and how we can help transform your kitchen. We do excellent work, are very experienced, and will work with you to make sure you love your new kitchen design.
FAQs About our Kitchen Interior Design Services
Our team at Dynamic Kitchens and Interiors wants to help you make your home the best it can be, and to do that, we focus much of our attention on the kitchen. In modern homes, the kitchen is not only used for food preparation, but is also often the main dining and entertaining area as well. Our experts have extensive experience in kitchen interior design, and you can count on us to make your kitchen look just as beautiful and inviting as you could want. Below, we'll go over the answers to a few of our most frequently asked questions about our kitchen interior design services.
What interior design styles do you offer?
While it's true that interior designers have preferred styles, our team will never let our own preferences limit what we do for you. Our team has the right knowledge and experience to help you create a kitchen in a wide range of styles, so whether you want something rustic and cozy or sleek and modern—or anything in between—we've got you covered.
Why is kitchen interior design important?
In older traditions of home design, the kitchen was a purely functional space, used for preparing food and nothing else. This meant that the appearance of the kitchen didn't matter as much, as your guests certainly wouldn't see it and the family likely wouldn't either. Modern kitchens, however, are used for dining and entertaining as well as cooking, and you'll want to ensure this space always looks its best. Our kitchen interior design experts are here to help you create a kitchen design you will love, and one you can be proud to show off to your guests.