With our help as your kitchen interior design professional, you'll have the picture-perfect kitchen you've been wanting.
If you have ever noticed a beautiful kitchen interior design layout in a magazine or elsewhere, you may have felt a bit of envy and wished that your Wilmington, North Carolina home's kitchen could look that amazing. The good news is that it can! At Dynamic Kitchens and Interiors, we are confident that we can help you make your ideas a reality. We start by taking the time to learn your style preferences and come up with a plan that creates both beauty and functionality so you can get the most from your kitchen.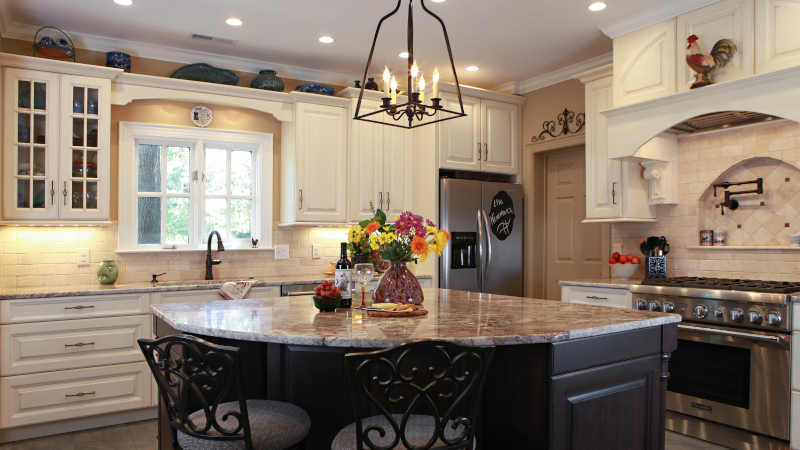 One thing that is unique about us is that we are a husband-and-wife team that handles both aspects of your kitchen renovation. You are getting a kitchen interior design professional to plan your project and a general contractor to create it. By handling both parts of the equation, we provide a seamless experience without the miscommunications that can occur when you work with two separate companies. We work well together and help each other achieve greater success so that your project's result is maximized and the entire process is fun and exciting as it should be.
We take our role as your kitchen interior design professional very seriously because we understand that it takes work to create a dream kitchen that is a joy to spend time in. We learn what your objectives are and how you use your kitchen so that the final design will be one you'll enjoy for years to come. Reach out today to schedule your initial consultation and learn more about how you could have the picture-perfect kitchen you have always wanted.
View Full Gallery
FAQs About Kitchen Interior Design
As you can guess from our name, our team at Dynamic Kitchens and Interiors has extensive experience in kitchen design. We want to help you make your kitchen as beautiful and inviting as it is functional, and we have the interior design expertise to make that happen. Keep reading to learn the answers to some of our most frequently asked questions about kitchen interior design.
What's the kitchen triangle?
One term you may have encountered when researching kitchen interior design is the "kitchen triangle." This refers to the placement of the three main work areas of the kitchen—the fridge, the sink, and the stove. Arranging these three elements in a triangle helps you avoid unnecessary movement between tasks and streamline the workflow in your kitchen.
What's your most important tip for kitchen interior design?
The piece of advice that we emphasize the most when it comes to kitchen design is that you should design your kitchen around your household's needs. When thinking about this, make sure you are realistic about your habits and how you intend to use the space. For example, if you rarely entertain, you don't need a kitchen that can accommodate a bunch of guests.
What's the most common mistake that you see?
While we've seen a wide variety of kitchen interior design mistakes, one of the most common ones is not including enough lighting. You need to be able to see what you're doing when chopping or cooking, so make sure that there is plenty of light in your kitchen and that lights are placed where you need the illumination the most.