We handle all the details so that your master bathroom remodeling project exceeds your expectations.
Have you ever noticed that the mood you find yourself in during the first few minutes of the day can cause a ripple effect that affects how the rest of your day goes? Here's another tip- how the end of the day goes can affect how well you sleep. With both of those in mind, there is one thing you can do that can make a difference on both fronts. In both cases, the area of your home that you'll spend some time in at those critical times is your master bathroom. It stands to reason that a master bathroom remodeling project at your Wilmington, North Carolina home could be a wise investment.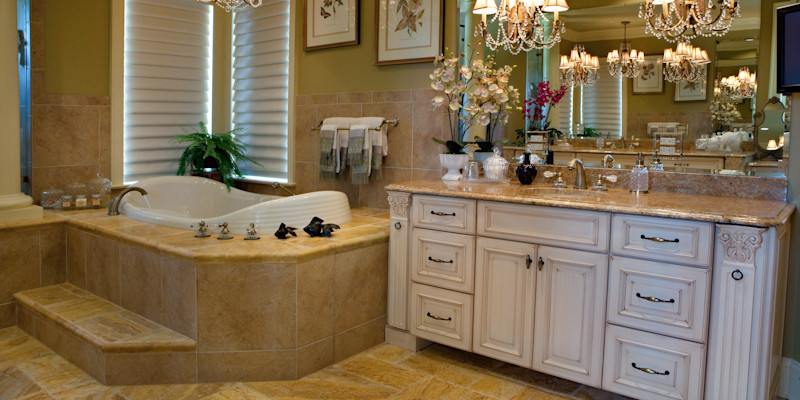 If your master bathroom isn't making you smile each morning and you don't have a nice area to de-stress before turning in for the night, it is time to reach out to us at Dynamic Kitchens and Interiors to discuss master bathroom remodeling. With beautiful and functional cabinetry, stylish and durable countertops, reliable hardware, and amazing lighting, we can transform your master bathroom into a veritable oasis. Since we handle both the design and the installation, you gain the benefits of a turnkey project, namely a seamless process that is exciting and fun.
We are proficient at considering even the smallest details that can make a difference between a "good enough" result and the exceptional result that you deserve. We are also a fierce advocate for attaining long-term benefits, so you can rely on us for quality products that withstand the moist environment of a bathroom. If you would like to know more or would like to get started with a master bathroom remodeling project, reach out today to schedule a consultation.
FAQs About Master Bathroom Remodels
You likely start and end each day in your master bathroom, so it's well worth it to have a space that's beautiful, relaxing, and convenient. If your current bathroom feels cramped, outdated, or simply unappealing, investing in a remodel can make a major difference in your daily life. At Dynamic Kitchens and Interiors, we want to help bring your vision to life, so we've addressed some common questions we've received about bathroom remodeling projects below.
Where do I begin with the remodeling process?
Before thinking about your design preferences, potential materials, or even your budget, start by making a list of things you currently dislike about your master bathroom. Is there a lack of storage space? Do you hate the look of your combined bathtub and shower? Are the counters too low? Once you have a list of things you want to change, you can more easily determine which changes are necessary and which ones are purely aesthetic.
How can I make my small bathroom feel bigger?
If you have a small master bathroom, there are certain design strategies and structural elements that can make the room feel airier and more open. Adding a glass shower door instead of a standard shower curtain will immediately open up the space and make it appear more luxurious. You can also take advantage of wall space to add plenty of floating shelves and cabinets to reduce clutter on your bathroom vanity.
How can I choose the right style for my bathroom?
There are countless articles and photos describing all the latest trends in master bathroom remodels, but finding the perfect options for your needs can be daunting. If you're not sure how to choose a design that fits your lifestyle and your budget, contact us to set up an interior design consultation.