There are many benefits of having one company handle both design & build on your home renovations.
There are many ways to go about doing a kitchen, bathroom, laundry room, or office renovation project. At Dynamic Kitchens and Interiors in Wilmington, North Carolina, we believe that we offer the very best approach. Our husband-and-wife team combines the talent of an experienced interior designer and equally talented general contractor to give you a design & build experience. There are many benefits involved that we think you'll agree make for a pleasant and rewarding experience with high-quality results.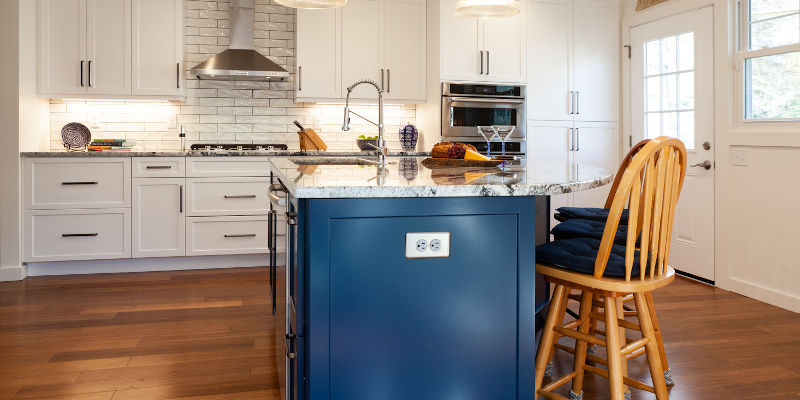 Communication– When you work with separate companies, there is far more chance of miscommunication. We are in tune with one another so that the project is properly managed from phase to phase.
Efficiency– When you work with several different contractors, it can be challenging to reach the right people at the right time. Efficiency suffers when you have to wait for a response. With our design & build capacity, your project will get finished on time, as we don't have the same challenges as you would experience otherwise.
No Blame Game- When there are multiple contractors on a project and something goes wrong, there is always someone else to place blame on. With us, if a problem comes up, we just take care of it!
If you have questions about how to get started with your home renovations and about our design & build capabilities, don't hesitate to reach out to us. We look forward to working on your project and creating the beautiful and functional environment you have in mind.
Our Design & Build FAQs for You!
When you are looking to make some changes around your property, especially those that might include a serious investment or the help of a design expert, then it is important to get the job done right. Here at Dynamic Kitchens and Interiors, our experts are hard at work ensuring that your next job is done right. We have come across many similar questions when talking to our clients and wanted to address some of our most frequently asked questions here:
How long have you been working in this field?
We have been working in the field for over 30 years now! As a dynamic duo of contractor and interior designer, we can both design & build your dream space.
When can you get the work completed?
The answer for this depends on the scope of your project! Longer, more involved design & build projects are obviously going to take longer than minor remodeling work. However, we want you to rest assured that we offer efficiency due to our working together.
What will the final cost be?
This is a multi-variable factor that will depend on many different things, including the scope of the project, materials you choose, and many other issues. For a personalized estimate, we would love to hear about your project in person.
What companies do you work with for materials?
We work with a host of different brands to get you quality cabinetry, countertops, hardware and lighting. Some of these include Signature Custom Cabinetry, Riverwood Custom Tops, Atlas Homewares and Task Lighting.
If you have other questions about our design & build process or would like to know more about those FAQs listed here, please give us a call today.