Our bathroom remodeling services will provide you with the oasis you deserve.
It has been said that how your morning goes, so goes your day. If yours starts off on a bad note every morning because you don't care for your bathroom, we're here to help! At Dynamic Kitchens and Interiors, we are a husband-and-wife team combining the expertise of a general contractor and interior design professional so that your bathroom remodeling is a turnkey project.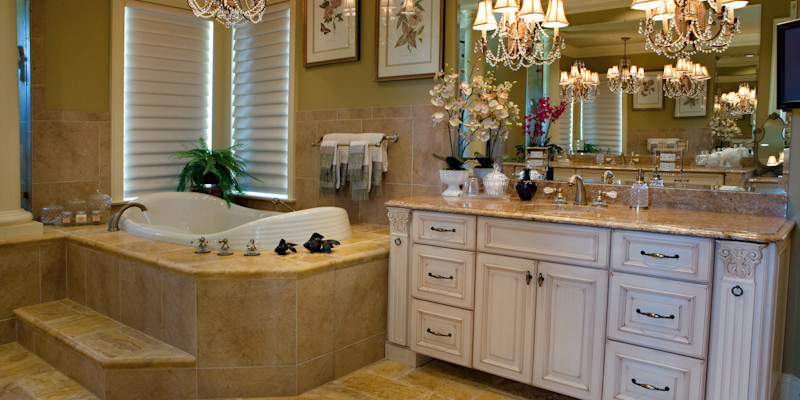 We will work closely with you to design the ultimate bathroom oasis that not just starts your day right, but can be used to de-stress at the end of the day and ease you into a good night's rest, too. Once you have decided on the layout and other major aspects of your bathroom remodeling project, we'll delve into the details so that your objectives are properly addressed. Our goal is to provide you with a new bathroom that is beautiful, functional, and a veritable oasis.
We have the expertise to deal with matters you might not have thought about—the kind of things that go unnoticed, but are important nonetheless. For example, we'll make sure there is sufficient ventilation so this moist environment doesn't attract mold. In addition, we'll recommend the latest in water-efficient fixtures so that your bathroom remodeling project can actually save you money in the years ahead. Speaking of the future, we'll also keep in mind the abuse a bathroom goes through and discuss quality materials that can handle that environment and usage.
Reach out today if you would like to know more about our bathroom remodeling services in Wilmington, North Carolina. We look forward to designing and building the bathroom of your dreams!
Bathroom Remodeling FAQs for You
A bathroom is an important and frequently used space in any home! Whether you are remodeling the master bath or a main bath, getting the design just right can make all the difference. Here at Dynamic Kitchens and Interiors, we want to assist you with all your bathroom remodeling goals. When we work with you in a professional capacity, we can deliver a new and improved bathroom that you'll love. We receive many questions regarding bathroom remodeling, and would like to take the chance to address some of them here.
Do I have to leave the plumbing where it is?
Not necessarily. We have completed bathroom remodeling work where we are able to transform a space leaving the plumbing where it is and also work where we utilize the space better by making some changes. It's up to you and your budget!
Can I convert my bath into a large shower?
Yes! We enjoy bath-to-shower conversions because it allows people to fully utilize their space. Most people shower far more than they use a bathtub and creating a luxury shower can be a little piece of serenity to be enjoyed daily.
How can I make my bathroom feel spa-like?
If you want a spa-like bathroom, choose elements that feel luxurious. It also helps to utilize organizational options to rid the space of distracting clutter. Finally, clean and fluffy towels are a must.
Do you do a lot of bathroom remodeling work?
Yes. We work with many bathrooms, kitchens, offices and other spaces. We enjoy bathroom remodeling because it creates a space that people can use and enjoy daily.
If you are thinking of completing a bathroom remodeling job, we can help! For more information about these questions listed or any others that you might have, please contact us today.
---
At Dynamic Kitchens and Interiors, we offer bathroom remodeling services in Wilmington, Holden Beach, Hampstead, Topsail Beach, and St. James, North Carolina.
Similar Services We Offer: