Modern kitchen cabinets can turn your dated kitchen into one you and your family will love.
Did you know that a dated kitchen not only drags down the value of a home, but can result in it sitting on the market far longer? At Dynamic Kitchens and Interiors, we work with homeowners who plan to sell their Wilmington, North Carolina home and want to avoid that scenario. Of course, we can also help you if you plan to live in your home for many more years and want that time to be more enjoyable. In both cases, we can recommend modern kitchen cabinets and countertops that will transform the space and make your kitchen more functional in the process.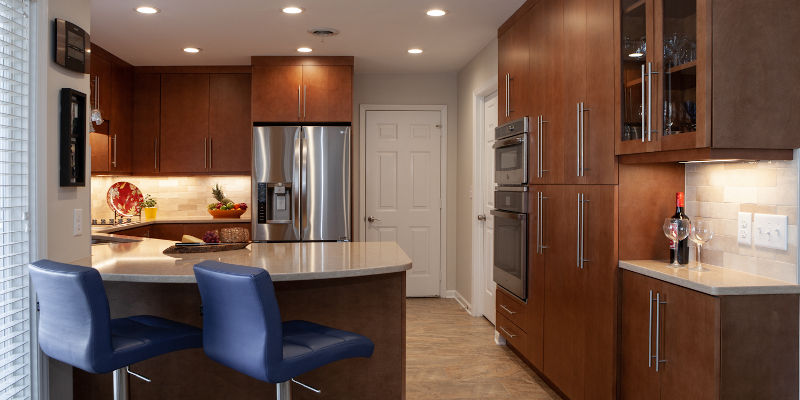 As a husband-and-wife team, we offer both the kitchen cabinet design assistance and the actual installation of your modern kitchen cabinets. By doing both parts of the project, we provide you with a seamless experience and flawless result. There are several styles that are popular these days that could make your kitchen more interesting, including shaker cabinets, louvered cabinets, flat panel cabinets, inset cabinets, and beadboard cabinets. We will take the time to answer your questions, learn your style preferences, and make recommendations about cabinet styles and kitchen layout so that your dream kitchen can be realized.
Our goal is to provide you with options for modern kitchen cabinets that are the perfect marriage between beauty and functionality. Between the more than 30 years of design experience and more than 40 years of installation experience, we are confident that we can turn your dated kitchen into one that you and your family will love. Call today to schedule a consultation to learn more.
FAQs About Modern Kitchen Cabinets
Our team at Dynamic Kitchens and Interiors wants to help you make your kitchen the best it can be, and to do that, we offer a wide range of different cabinet styles. While many homeowners love the traditional charm of raised panel or shaker-style cabinet doors, others prefer a more modern look. If you are interested in modern kitchen cabinets for your home, we encourage you to keep reading to learn the answers to a couple of our most frequently asked questions on the topic.
What makes modern kitchen cabinets modern?
First, you may be wondering what makes modern kitchen cabinets different than other varieties.  In general, modern kitchen cabinets are designed to look sleek and clean and typically use flat doors with no ornamental panels or frames. In addition, many modern kitchen cabinets have very minimalistic hardware—sleek metal tabs instead of traditional handles or pulls, or even push latches that require no handles at all.
Will modern kitchen cabinets work with my home?
When making changes to any part of your home, it's a good idea to think about your home as a whole and choose styles that will work with the rest of your architecture. This means that sleek, modern kitchen cabinets may not be the best choice for every home—for example, they will likely look out of place in a home with strong craftsman-style elements. If you are set on modern kitchen cabinets, however, our team can help you figure out a way to make them work harmoniously with your home.