We can create beautiful modern kitchen cabinets for your kitchen.
Selecting cabinets for your kitchen can be a little tricky. You want to do something you love, not just what is trendy at the moment. Trends come and go, but the most important thing is that you truly love your cabinets. Cabinets are one of the more expensive items you will purchase for your home, so it is essential you pick a style that makes you happy, since it is not likely you will be replacing them again any time soon. If you love modern kitchen cabinets, we can help you find the perfect cabinetry to complete your kitchen. You are sure to love your new cabinets for a long time to come.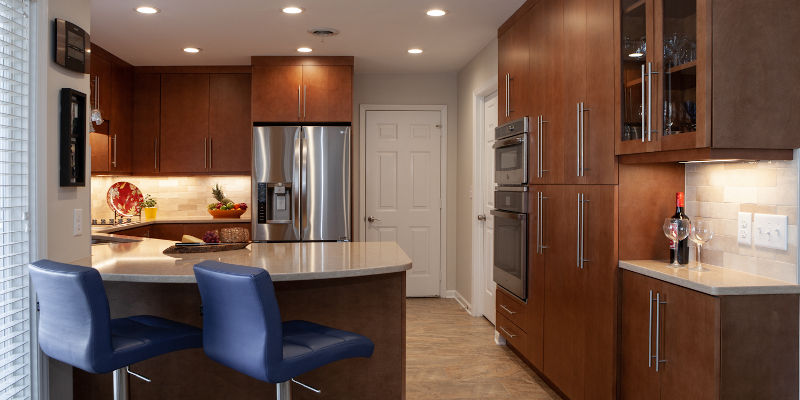 At Dynamic Kitchens and Interiors, we are committed to providing great options for modern kitchen cabinets to all of our customers in the Holden Beach, North Carolina area. We will work with you to find the perfect modern design that will reflect your personal style preferences. The great thing about modern cabinets is that they can be combined with different design styles if you decide in the future that you would like to add another design style to your décor. Modern styles are simple, sleek, and minimal, making them the perfect backdrop for any kitchen. You can put your own style and flair into the design, which will look great and make your kitchen a room you love to spend time in.
If you are interested in modern kitchen cabinets, contact us today, and we can help you find the perfect modern cabinets for your kitchen. We can also help you put together other design elements or help to take your ideas for your kitchen and make them cohesive. We have over 30 years of experience in the design industry, and we are confident we can help you create a beautiful kitchen with the perfect modern cabinets.
---
At Dynamic Kitchens and Interiors, we can install modern kitchen cabinets in Wilmington, Holden Beach, Hampstead, Topsail Beach, and St. James, North Carolina.