We handle kitchen renovations from design through build to take your vision and make it a reality.
When it comes to achieving the ultimate in kitchen renovations, it is much like the saying "it takes a village to raise a child." An interior designer can help you visualize what can be achieved, provide guidance during the planning and material selections, and keep the project going smoothly. A general contractor takes all those visions and plans and brings them to life. When you have both of these in one company, the benefits are off the charts!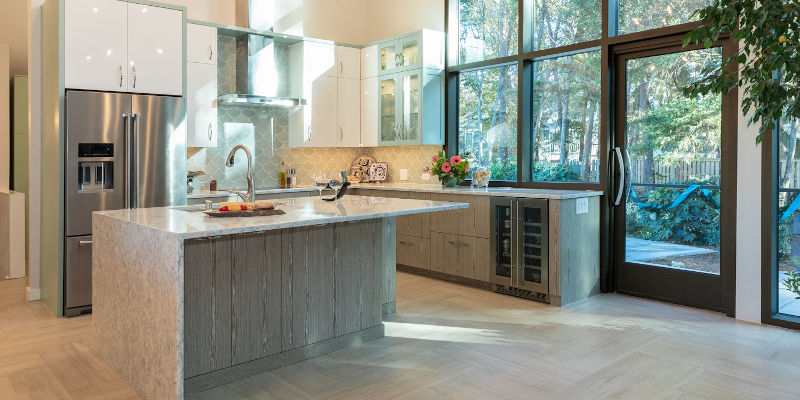 At Dynamic Kitchens and Interiors, our husband-and-wife team takes your project from design through completion, including the demolition needed, electrical and plumbing upgrades, and even HVAC work, if needed. With our 40+ years of experience as a general contractor, your kitchen renovations are in capable hands whether a minor upgrade or a full-scale renovation. Our kitchen designer can help you with all the features that matter to you, be that a kitchen island, lots of storage, custom cabinetry and countertops, or whatever else is needed to give you the kitchen of your dreams.
If you have been in other homes in the Wilmington, North Carolina area that had kitchens that made you envious or you've seen some in magazines or online that have inspired you, know that we can create something as inspiring that will cause others to envy yours! What's even better is that it won't just be beautiful, but also highly functional so you'll love to spend time in your new kitchen. Reach out to us today to learn more about kitchen renovations.
Your Questions About Renovating Your Kitchen Answered
Renovating your kitchen is one of the best ways to enhance your home and improve its value. But remodeling your kitchen is also a major project, so we've answered a few common questions about what this process looks like below.
Can you help me design my kitchen?
Yes! We highly recommend starting off by letting us help with the design of your new kitchen. We can then continue our work when it's time to begin construction.
How long does the kitchen remodeling process take?
This depends on the complexity of your kitchen remodel. For instance, a kitchen remodel that involves completing altering the layout of the room will take longer to complete than a remodel that involves making a few cosmetic changes.
How can I prepare for a kitchen remodel?
Know that it will feel like you are living in a construction zone for a few days. Make plans to forgo the use of your kitchen during this time and stay focused on the beautiful kitchen you will have at the end.
Why should I hire you to do my remodel?
We have decades of experience designing and renovating kitchens. We're also committed to complete client satisfaction, and we always go above and beyond to ensure the remodeling process is a good experience.
How do I get an estimate?
You can get an estimate by reaching out to us directly. We'll begin by consulting with you about what you have in mind for your kitchen before providing a quote.