Our bathroom designer can help you create the bathroom of your dreams (within a budget you can live with) for your home in Wilmington.
Day-to-day life can be stressful in so many ways, but if you have been living with a bathroom you don't like at your home near Wilmington, North Carolina, it only adds to your frustration. We want to offer our services as a top-notch bathroom designer and help you design and install a bathroom you will love. At Dynamic Kitchens and Interiors, we want your bathroom to be a space that helps you start your day off right. At the end of the day after a hard day at work, we want your bathroom to be your own personal spa – a space that can help you unwind and relax.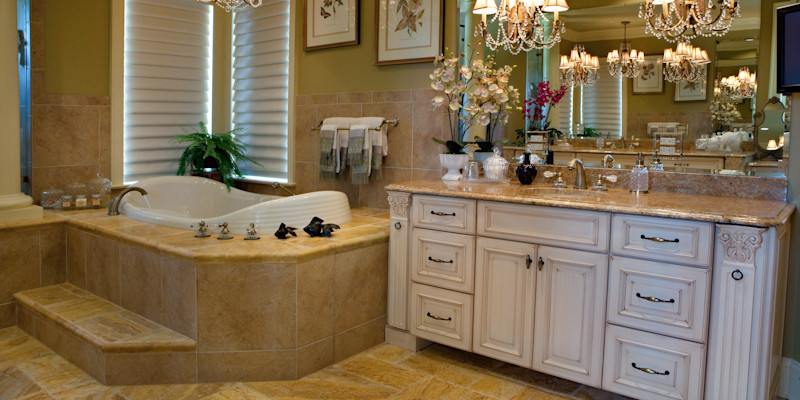 As your bathroom designer, we will help you balance several important elements of any successful bathroom design:
Function: This is perhaps the most important element of any interior design project. It must work well for your needs and the needs of your family. It needs to maximize the use of limited space.
Aesthetics: We will work with you to identify the aesthetics that appeal to you and help you achieve them with color, style and bringing all the design elements together.
Budget: We will help balance your dream for your ideal bathroom space with the constraints of your budget. We can help you determine the best way to get the most for your investment.
Because we have over 30 years of experience as a bathroom designer, we can also lend our expertise and help you think about things you may not consider on your own. It is critical that bathrooms have proper ventilation to reduce mold and mildew growth. We can help you achieve your water efficiency goals without sacrificing the performance of your showerheads, toilets, and sinks. We can help you choose quality materials that are appropriate for use in a bathroom and can stand up to exposure to moisture and heavy use.
---
At Dynamic Kitchens and Interiors, our bathroom designers proudly serve Wilmington, Holden Beach, Hampstead, Topsail Beach, and St. James, North Carolina.