Our designer will handle the kitchen cabinet design for a beautiful and functional result.
The cabinetry in your kitchen serves an important purpose: providing storage space for all the essentials you want to keep within easy reach. In order to achieve the balance between visual appeal and functionality, you need the right kitchen cabinet design. Placing cabinets in the proper places and ensuring that they're easy to access gives you a kitchen that you'll love to use every day, whether you're preparing meals or playing games around the table. At Dynamic Kitchens and Interiors, we work with property owners throughout Holden Beach, North Carolina to deliver kitchen cabinet design that exceeds expectations.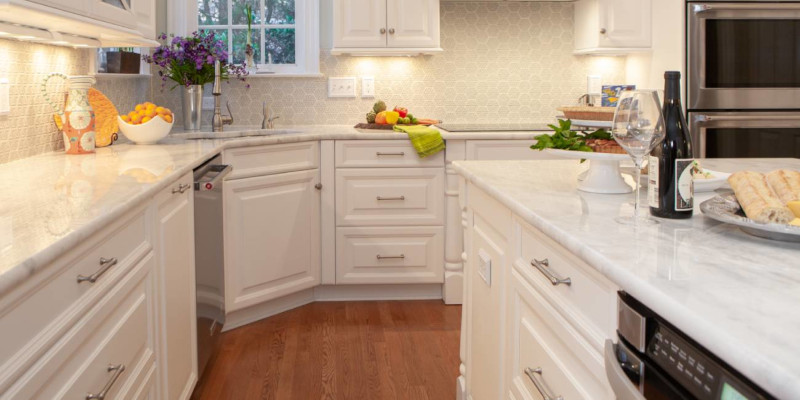 Our owners are a husband-and-wife team that works together to deliver excellent service and great results. Our designer will handle the kitchen cabinet design for a beautiful and functional result. Throughout the process, she will work closely with you to include what you want from your upgraded kitchen. You can choose from a range of options, depending on your aesthetic preferences, including shaker, louvered, inset, beadboard, and flat-panel cabinetry. After you approve the design, our contractor will take over, ordering the materials and accounting for any needs within your actual space.
A kitchen remodel can add significant value to your home, and the kitchen cabinet design is a major factor in the overall renovation process. With a wide range of color and style options, it's easy to find the cabinets that fit the look of your home while providing the storage space and aesthetic appeal that deliver a functional and beautiful space.
FAQs About Kitchen Cabinet Design
Kitchen cabinet design is a vital component of a beautiful and functional kitchen, and we are prepared to design your cabinets to work in harmony with your space. Because many of our clients tend to have similar questions about kitchen cabinet design, we have answered several of these questions below. If you have additional questions, we would be happy to discuss them with you during your consultation.
How can I make my cabinets look less overwhelming?
A common concern when it comes to kitchen cabinets is that they make the space feel weighed down, especially if they are dark in color. Light-colored cabinets can make your kitchen feel airy. Another solution is to use fewer cabinets or, if that isn't a feasible option, to break them up visually somehow. For instance, you could choose glass cabinet doors or open shelving for some of them.
Why does the quality of the cabinets matter?
You want high-quality cabinets because they look far better than cheap cabinets. But more importantly, high-quality cabinets will last longer and perform better over time. You want cabinets that can hold the weight of your dishes and store other items reliably. Plus, high-quality cabinets are necessary if you want to support your other high-end features, such as stone countertops.
How important is the hardware in kitchen cabinet design?
The hardware isn't as important as the cabinets themselves, but it still matters greatly. We can help you choose the right hardware material, style, and finish for your particular cabinets to really elevate your kitchen.