You can enjoy the kitchen remodeling process with the help of our experts!
Are you looking towards the process of kitchen remodeling? Is your kitchen dated, dysfunctional or has fallen into disrepair? Here at Dynamic Kitchens and Interiors, we love helping old or poorly designed kitchens become places where you can spend your time easily and enjoyably. If you have been looking for assistance with an upcoming kitchen remodeling project, we are here to assist you.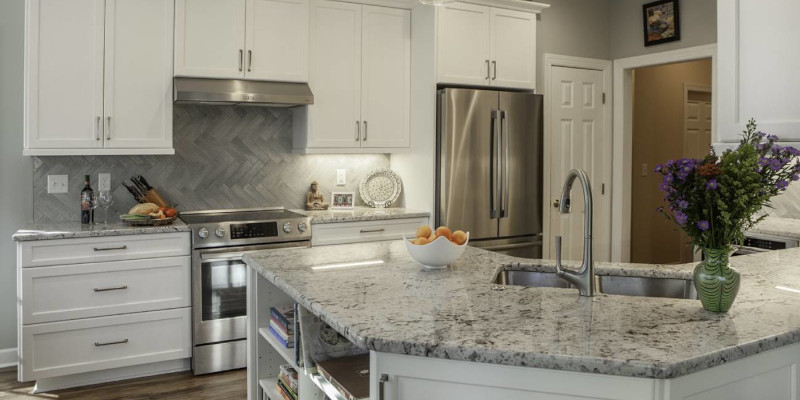 You will love that the focus of our projects begins with a smart design. Our talented kitchen designer has been designing kitchen, bathrooms and other areas of a home or office space since 1997, and you can count on that level of experience to bring all the best elements to the table for your own design. We can find smart design and layout options that will make the most of whatever space you have, increasing the functionality of your space.
In addition to a great design, we like to help you get the most from the kitchen remodeling process by offering you quality materials that will last. With all the heat, moisture, and repetitive use that a kitchen sees on a regular basis, we offer you the best in materials that can withstand the environment and look beautiful doing it.
We are a husband-wife team that is able to help you design & build your dream kitchen in the Holden Beach, North Carolina area. This will give you the best of both worlds with a much more efficient timeline. If you have questions about our kitchen remodeling process, please give us a call today.
View Full Gallery
Common Questions About Our Kitchen Remodeling Services
If you're tired of the way your kitchen looks or functions, remodeling this space is probably on your to-do list. We've answered some questions about the kitchen remodeling services we provide at Dynamic Kitchens and Interiors down below and encourage you to review them before getting your project started.
What are some benefits of remodeling my kitchen?
Remodeling your kitchen can update this space and make it work better for you and your family. Updating your kitchen is also one of the best ways to add value to your home.
How long does the kitchen remodeling process take?
This depends on what you want to accomplish in your kitchen. For example, if you want to rip out your cabinetry and change the layout of your kitchen, the project will take longer than if you simply wanted to paint your cabinets and put in new counters.
Can you help me with the design process?
Yes! If you'd like interior design help with your kitchen, we can provide this service.
Why should I hire you to remodel my kitchen?
We'll help you create the kitchen you've always wanted. We'll also go above and beyond your expectations by making sure the remodeling process goes smoothly from beginning to end.
How do I get my project started?
The first step in the kitchen remodeling process is to consult with us about what you want from your new kitchen. Contact us today to set up an appointment and to learn more about what sets our kitchen remodelers apart.