The key to a successful kitchen remodeling project is communication.
One of the most popular home improvement projects is kitchen remodeling. Updating the kitchen in your Hampstead, North Carolina home might sound like a major investment, but it doesn't have to be. At Dynamic Kitchens and Interiors, we love helping families enjoy a beautiful and functional kitchen that fits their budget. Since we handle everything from the design of your kitchen remodeling project to the construction, we can keep your project on schedule and on budget.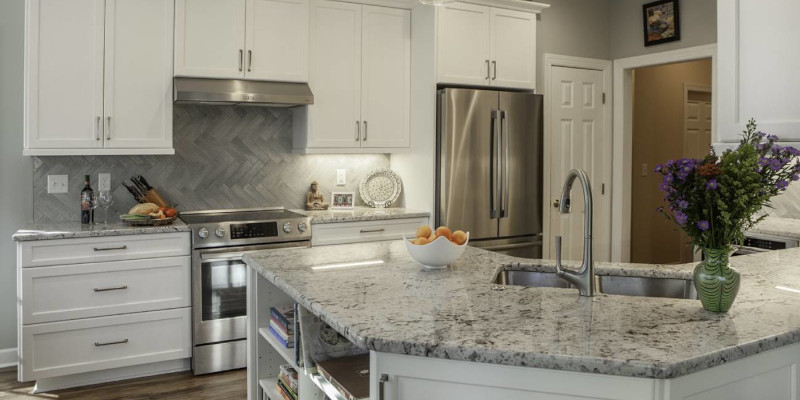 The key to a successful kitchen remodeling project is communication. We always take time at the planning stage to ensure we fully understand your goals and vision. We welcome your questions, and we'll have plenty of our own as we learn your objectives, expectations, preferences, and budget. For us to breathe life into your vision, we have to be able to fully picture it ourselves. With our interior design expertise, we can also guide you on what it takes to achieve a result that would look great in any kitchen remodeling magazine.
We love transforming a home so that a dated kitchen can be banished forever. If you want your kitchen to be a joy to prepare meals in and be a favorite place to entertain and spend time with your family, reach out to us today to get started with a kitchen remodeling project. We are happy to schedule a consultation to tell you more about what our husband-and-wife team can accomplish for you. Don't hesitate to ask about other rooms that need updating too!
FAQs About Kitchen Remodeling
At Dynamic Kitchens and Interiors, we have extensive experience in kitchen remodeling, and we want to help you make your remodeling project a success. Below, we have put together the answers to some of our most frequently asked questions on the subject of kitchen remodeling to help you know what to expect from the process.
What should I consider before I start a kitchen remodeling project?
Before you start any kitchen remodeling project, we recommend taking the time to consider a few key things. First, figure out your goals for the project—do you want to make your kitchen bigger? Give it a new layout? Install new appliances? Re-do the décor? The more clearly you can answer these questions, the more time you can save during the design phase. Second, consider your budget and how you plan to finance the project. Kitchen remodeling is not cheap, but the expenses don't have to get out of hand, either, as long as you are careful about your spending.
Do I need to work with a professional designer?
While it's not strictly necessary to work with a kitchen designer, we highly recommend that you do so, as our expert designers can elevate your project and ensure that you get the top-notch results you deserve. Kitchen design is highly complex, as there are many appliances and systems that need to be installed, and our experienced designers can ensure that everything is ideally placed to make cooking and entertaining in your new kitchen as easy as possible.
How long does kitchen remodeling take?
Depending on the complexity of the changes you want to make, your kitchen remodeling project can take as little as three weeks to as much as six months. Once we have finalized your design, our team can give you a more detailed timeline estimate so that you can know what to expect from the remodeling process.