Our kitchen remodeling experts can handle the design, demolition, and installation.
The kitchen is the heart of the home, serving as the spot where family members often come together to prepare and enjoy meals and plan the days and weeks ahead. If your kitchen doesn't serve the needs of your household, a kitchen remodeling job may be the ideal solution. You might be looking to improve the functionality of the space by changing the layout or adding more storage space. Perhaps your ideal kitchen is a gourmet space where you can whip up delicious meals for your loved ones. No matter what you want from your space, our team at Dynamic Kitchens and Interiors can tackle the kitchen remodeling process at your St. James, North Carolina home.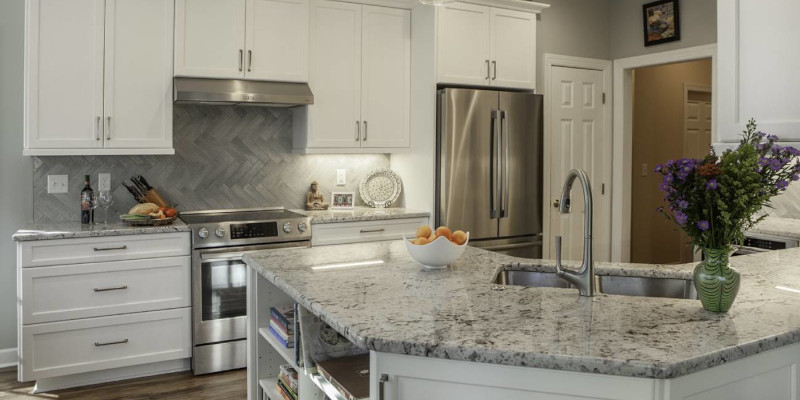 Kitchen remodeling is one of our areas of expertise, and we offer a turnkey experience. Our husband-and-wife ownership team includes an experienced designer and a skilled contractor who work together to provide beautiful and functional results. We start the process by consulting with you at your home to review the space and talk to you about what you want. From there, we'll create a customized design and estimate for the project. Upon approval, we'll get started as soon as possible to begin creating your dream kitchen.
Our kitchen remodeling experts can handle the design, demolition, and installation. We're able to handle minor renovations, such as updating the countertops or cabinetry, as well as massive overhauls to transform the existing space. If you're ready to take the next step in the kitchen remodeling process, don't hesitate to contact us.
View Full Gallery
FAQs About Kitchen Remodeling
Kitchen remodeling can make a massive difference in your daily life once the upgrades are complete. But before you arrive at that point, there are a lot of logistics to think about, and you'll probably have lots of questions on your mind too. We hope to answer a few of them below. If you have additional questions, go ahead and give us a call to learn more.
What is the timeframe for a kitchen remodel?
As you probably expected, the timeframe for a kitchen remodel can vary widely. We can give you more details and an estimate once we discuss your specific project, but until then, we can tell you that there are many factors involved. These include the scale of the project (whether it will involve demolition, a complete remodel, minor renovations, etc.), how long it takes materials to arrive, and whether any delays occur. We can also tell you that major remodels usually take a few months.
How long have you been remodeling kitchens?
Our president and designer started designing kitchens for another business in 1994. By 1997, she was ready to go out on her own and opened our company. Though we also remodel bathrooms, offices, and laundry rooms, we are especially passionate and skilled in kitchen remodeling.
Why should I choose you to remodel my kitchen?
When we approach a kitchen remodeling project, we let our clients know that quality and value are of the utmost importance to us. We will help you make the best decisions for your space while respecting your budget and helping you make the most of it.