Modern kitchen cabinets can provide both storage space and visual appeal.
Depending on when your Myrtle Grove, North Caroline home was constructed, the interior design may not quite align with your own personal style. If you prefer a more modern style, an older home might not have the look or functionality you're looking for. Luckily, you can always rely on our team at Dynamic Kitchens and Interiors to transform your space with customized, high-quality design and renovation services.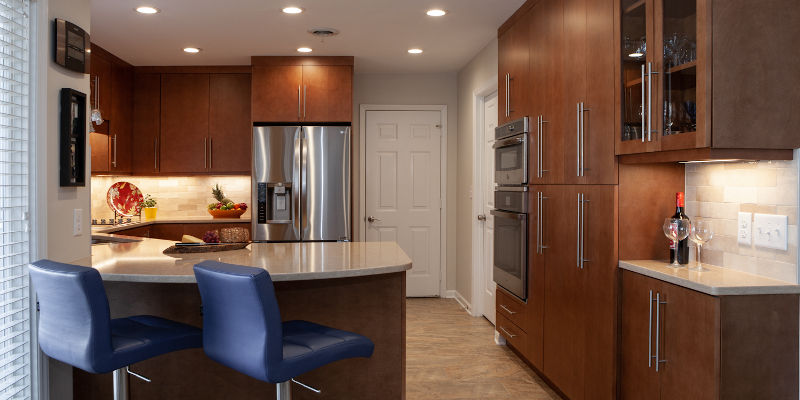 Many of our clients come to us requesting kitchen updates, as this is one of the most highly utilized rooms in any home. A few major issues that many homeowners have with their kitchens comes down to storage capacity and efficiency. If your kitchen cabinets don't maximize your storage space or look old and worn-out, they can seriously detract from any positive features of the room. Taking this common need into account, we're proud to offer modern kitchen cabinets to our clients.
Our team can give you modern kitchen cabinets that will perfectly complement your space and suit your unique needs. We work with top manufacturers in the industry, giving you exclusive access to a wide variety of high-quality materials and products. Since our leadership team also includes an experienced interior designer, we're able to provide design recommendations to ensure that your updated kitchen will look cohesive and beautiful.
Your modern kitchen cabinets will do more than just give you a place to store your items. With the right elements, you can achieve the look you've always sought after in your home. If you have questions for our team or would like to discuss your ideas for modern kitchen cabinets, please contact us to schedule a consultation.
---
At Dynamic Kitchens and Interiors, we can install modern kitchen cabinets in Wilmington, Holden Beach, Hampstead, Topsail Beach, Myrtle Grove, and St. James, North Carolina.