Enhance your kitchen with our design expertise.
Your kitchen is one of the largest rooms in your home, and the one where you likely spend a big portion of your time at home. You want this room to be beautiful as well as functional, but it's easy for dated details, lack of adequate lighting, broken cabinets, and plain countertops to get in the way of enjoying this part of your home.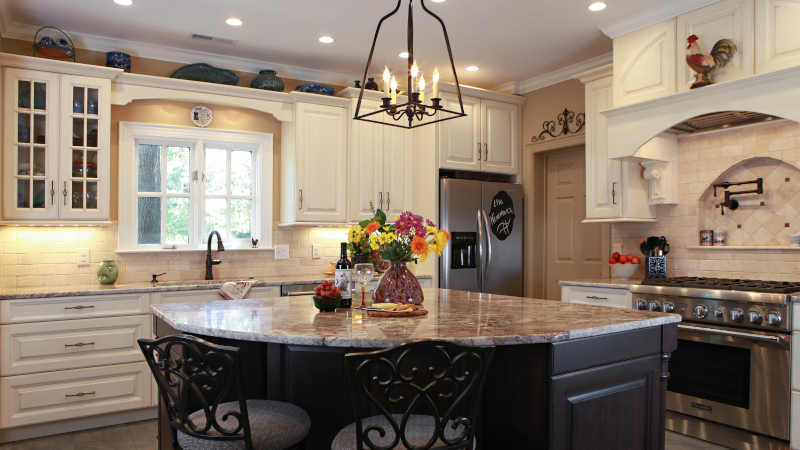 If you're ready to remodel your kitchen, turn to us at Dynamic Kitchens and Interiors. We have helped many homeowners in St. James, North Carolina love their kitchens again with our completely customizable, personalized kitchen interior design services. Whether you want something more rustic and traditional or sleek and modern, we can bring your design to life.
The most important part of any kitchen interior design project is sitting down with you and learning about what you want. Once you contact us, we will start this part of your project right away. Feel free to bring pictures of kitchens you like from online sources, photos from magazines, or photos of your friends' kitchens that you like. We will refine your design again and again until we get it right and can confidently move into the construction phase.
Choosing us as your source for kitchen interior design can beautify your kitchen, add value to your home, and enhance the way you use this space in your home for years to come. Contact us today to set up your initial consultation or to learn more about our design services.
FAQs About Designing Functional Kitchens
Many homeowners come to find that their kitchen often becomes the common gathering place for friends, family, and other visitors, especially due to the popularity of open-concept living areas. If your kitchen feels cluttered, disorganized, or simply old-fashioned, our team at Dynamic Kitchen and Interiors would be delighted to help bring your remodeling dreams to life. Below, we've responded to a few common questions from homeowners who want to ensure their kitchens are both beautiful and functional.
How can I keep my kitchen organized?
If you constantly feel like you're losing kitchen utensils or rummaging through cluttered cabinets looking for the right cooking pan lid, you're not alone. Fortunately, no matter how many dishes, mugs, or utensils you own, there are ways to keep everything neatly organized. One of our top tips is to optimize for efficiency over anything else, such as storing most of your dishes near the dishwasher to make unloading a breeze.
What materials are best for kitchen countertops?
The right material for you depends on your budget, your cooking habits, and how much long-term maintenance you're willing to do. However, a few popular low-maintenance and durable materials include quartz, granite, and stainless steel.
How do I choose a color scheme for my kitchen?
You've probably seen gorgeous, jewel-toned kitchens on renovation shows, in magazines, or in photos on social media and thought that you'd love to have a unique color for your kitchen cabinets, floors, or backsplash. Before you start painting everything burgundy, however, try to think about your long-term vision. Will you still love that trendy color five years from now? If you're not sure, you might want to stick with neutrals for now.