Our renovation design and build process provides the ultimate results for your home.
The traditional manner of a home remodeling project is to begin with the services of an interior designer who will work with you to create a plan for the transformation of your kitchen, bathroom, office, or another room of your home. After that, you would choose a general contractor who would use those plans to complete the work. If you would like a seamless experience for your project, you can work with a renovation design and build team. At Dynamic Kitchens and Interiors, our husband-and-wife team works side by side for a collaborative effort that will get your project done to your complete satisfaction, as well as on schedule and within budget.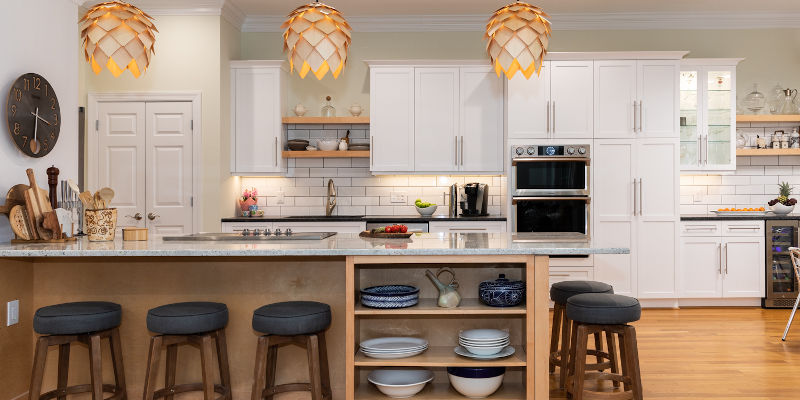 Our president, Alice Everett Evans, CKD, A.I.S.D., with her more than 30 years of interior design experience, and her husband, John, a general contractor with over 40 years of experience, provide the ultimate renovation design and build experience. You couldn't ask for a more personalized process that can take your vision for your Hampstead, North Carolina home and make it a reality.
Our renovation design and build process has the benefit of consistent communication and open availability so that any questions and concerns can be addressed as they come up in the process. We'll stay on top of every detail so you will end up with a home that is stunningly beautiful and has the functionality you need for optimal enjoyment. If you would like to know more about what we have to offer and would like to get started with a remodeling project, don't hesitate to reach out to us to schedule a consultation.
FAQs About our Renovation, Design, and Build Team
We at Dynamic Kitchens and Interiors have extensive experience in the renovation industry, and we are here to help you make your home the best it can be. Below, we'll go over a few of our most frequently asked questions about our renovation design and build approach, so you have a better idea of what sets us apart from our competitors.
What is a renovation design and build team?
Essentially, a renovation design and build team is just what it sounds like—a single team with the right training and experience to tackle the design phase of a project, as well as the physical renovation or new build process. If you want to improve your home in any way, we encourage you to give us a call to find out how we can help.
What are the advantages of working with a renovation design and build team?
The more people involved in any project, the more complicated that project is likely to become. Working with a single renovation design and build team is in many ways more convenient and efficient than working with separate designers and contractors, as you will have a single point of contact and won't have to worry about being a go-between for the different professionals involved. Our team will always know how your project is going and what needs to be done next because we will oversee the whole thing ourselves.
Why should I choose your team?
We encourage you to choose our renovation design and build team because we have the ideal combination of experience to deliver the superior results you are looking for. We are a husband-and-wife duo with a long history of collaboration, and both members have extensive experience in their respective industries. Alice Everett Evans has over 30 years of interior design experience, and her husband John has been working as a general contractor for over 40 years. Together, we will help you design the ideal renovations or additions for your home, then execute these plans to perfection.